Bonavita Gooseneck Kettle (BV382510V)
Introduction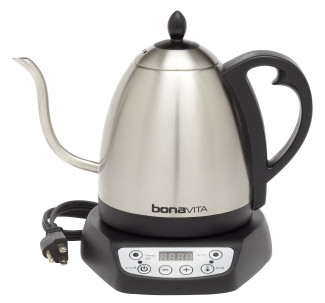 Bona Vita means "good life" in Latin (buona vita in Italian).
The kettle's name suggests that life is better with one of them, and they might be right.
The elegant gooseneck spout in brushed stainless steel looks fabulous on your kitchen counter. It signals your visitors that you have style and know what you are doing (whatever that might be).
With a 1 liter water capacity, Bonavita is one of the smaller and lighter kettles.
The main features are the gooseneck spout and excellent temperature control.
Goosenecks allow a very measured and exact pouring, essential for drip coffee lovers.
The variable temperature settings are either pre-set or you can manually program any temperature between 140°F/60°C and 212°F/100°C.
The variable kettle is ideal for coffee and tea enthusiasts, fans of retro design and Bona Vita.
How does it work?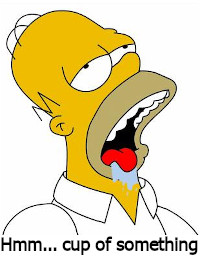 Boiling time
Due to its smaller size, the Bonavita kettle boils water in about 4 minutes.
Perfect if you want a quick cup of something (Homer is always drooling about it).
Even when filled, it is light to lift (4.95lbs/2.25kg), perfect for controlled pouring.
Temperature Settings
Bonavita provides two ways to use the controls:
Convenience — six pre-programmed settings.
Choice — you can set your preferred temperature manually in 1° increment.
To select a preset temperature, turn the kettle on and press the "Temp Set" button. Starting with the lowest (140°F/60°C), it will jump through all five temperatures until you reach boiling (212°F/100°C).
You use the plus and minus buttons below the display for manual programming. Once you get to the desired temperature, the display will stop flashing, and the kettle starts heating the water.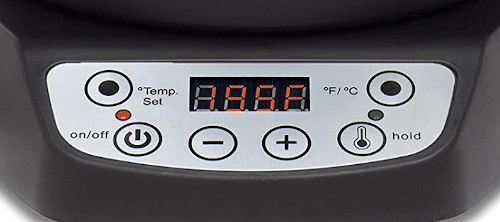 Here are three handy and helpful features:
The kettle will always display the last selected temperature, even when you lift it off the base and return it (for another seven minutes).
After turn off, most kettles will go back to a default temperature (often boiling 212°F/100°C). Not so the Bonavita. It keeps the last set temperature until you change it – forever if you like. It is handy when you use a particular setting all the time.
With the push of a button, you can change from Fahrenheit to Celsius and back.
There is one tiny disadvantage with a gooseneck kettle for temperature fanatics.
The hot water will slightly cool down, flowing through the long spout. If you need an absolute steady water temperature (for some teas, for example), a short-spout kettle might be the better option for you.
More useful Features and Benefits
The temperature-controlled kettle has all the bells and whistles you would expect.
Boil-dry protection, automatic shut-off, concealed heating element, and it is BPA plastic free.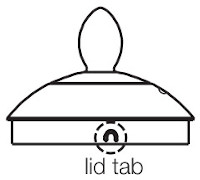 You activate the 1-hour keep-warm function by pressing the "hold" button when the display shows the desired temperature. Removing the kettle from the base will deactivate it. If you want a steady temperature, you just push the "hold" button again.
There is one very cool feature I particularly like:
You can adjust the tightness or grip of the lid.
If it is too loose or too tight, you can manipulate a little tab to adjust the lid's fit.
That's what engineering is all about, isn't it?
Price
Please click the buttons to check prices and availability.
Bonavita kettle is suitable for a $$ budget.
Prices vary and fluctuate from retailer to retailer.
To compare prices, keep an eye on the model number (BV382510V) because Bonavita produces two different but very similar looking kettles.
One is the same 1 liter size but without the temperature control panel (check it out here).
The bigger brother with programmable temperatures comes with a 1.7l capacity (have a look here),
To avoid any confusion, all relevant Bonavita kettles are listed at the bottom of this review.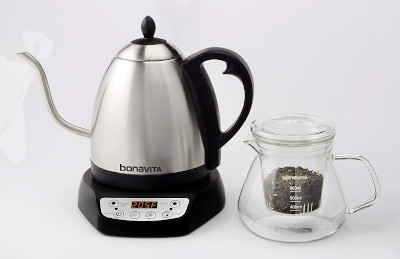 The Good, the Bad, and the Conclusion
Pros
Pre-set and manually adjustable temperature settings.
Wide range of temperatures to suit all purposes.
Remembers your last programmed temperature.
The gooseneck spout for controlled pouring makes it an excellent choice for coffee enthusiasts.
Quick boiling time.
You can adjust the grip of the lid.
Cons
Not a family kettle – unless your family is small.
Pouring through a gooseneck spout decreases water temperatures – not ideal for specific teas.
Conclusion
You are getting some neat features with the Bonavita, which most other kettles in this price segment don't provide.
Especially the temperature settings are practical, well thought-through and easy to use.
Gooseneck kettles appeal especially to coffee lovers and fans of retro design.
This particular model might not suit large families, but Bonavita has a bigger 1.7l version of the same kettle (see below for a Bonavita kettle overview).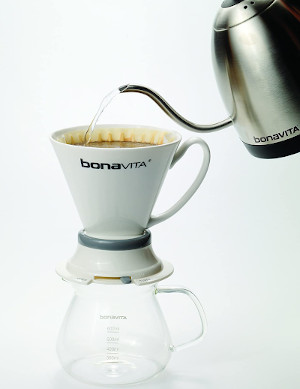 The price is fair, considering all the features and functions you are getting.
One last thing.
There have been reports and reviews from buyers about a particular error message at the temperature display ("Hi-Err").
On the Amazon product page, Bonavita owns up to this fault and offers a free replacement of the base unit, which is excellent customer service.
Unfortunately, the link to the claims form they provide is broken and doesn't work.
As my mother sometimes said:
Don't tear down with your butt what you built with your hands.
The Kettle Whistler
Overview of Bonavita Kettles
| Bonavita (BV382510V) | Bonavita (BV3825B) | Bonavita (BV382518V) | Bonavita (BV3825B05) |
| --- | --- | --- | --- |
| | | | |
| 1 liter with temperature control (this review) | 1 liter without temperature control | 1.7 liter with temperature control | 0.5 liter travel kettle without temperature control |
| From $57.99 | From $51.15 | From $82.02 | From $30.44 |