Breville IQ Kettle (BKE820XL)
Introduction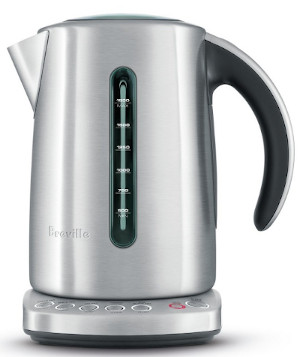 Breville trademarked this as "the IQ Kettle".
Nowhere on their website do they explain the name choice, so it's open for interpretation.
Low IQ?
No IQ?
IQ might stand for
= I Quit
= Is Quiet
= Imbecile Question
= Intrinsic Quagmire
Whatever it is, we can safely assume that every kettle is only as smart as the person handling it.
The Breville 820XL makes an excellent first impression.
It's robust and masculine brushed stainless steel look reminds one a bit of a wrestler or rugby player.
With a big 1.8l capacity (about 10 cups of tea or coffee), this is a family kettle.
Convenient is the water level indicators on both sides, so you always know how much water you have in the kettle.
You can watch the water heating through a window in the lid. Not strictly necessary, but a nice feature when you need to keep an eye on your morning eggs (Want to know how to cook an egg in your kettle? Here is your answer.)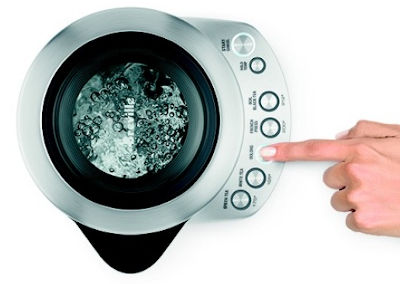 The 5 temperatures are pre-set, which means you have a button for each setting, but you cannot select a temperature in between (for more info, see next chapter).
With this temperature controlled kettle, Breville tries to reach tea and coffee lovers that want ease and convenience when preparing their favorite brew.
How does it work?
Boiling Time
The lid opens slowly with a touch of the release button on top of the handle. It's a safety feature to protect you from hot water splashes.
Fill it up with cold water, and after about 7 minutes, a beep will tell you that the kettle has boiled.
Due to the bigger size, it is quite heavy to lift and pour when fully filled.
Temperature Settings
The kettle makers favored convenience over choice.
It means all you have to do is press the desired temperature button and hit "Start".
You cannot select any temperature outside the 5 pre-set temperatures:
175°F / 79°C — Green Tea
185°F / 85°C — White Tea
195°F / 90°C — Oolong Tea
200°F / 93°C — French Press coffee
212°F / 100°C — Black Tea
Each button has a tea or coffee setting assigned to it – see the image below.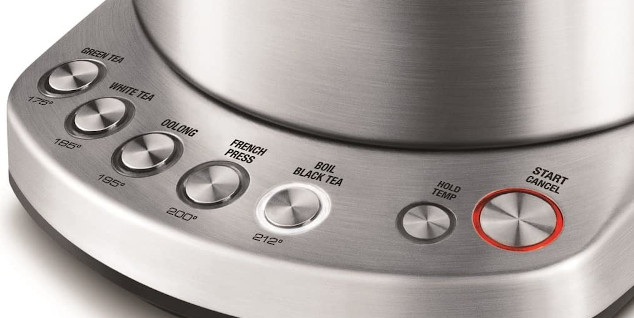 It will be sufficient for most purposes but might not go low enough for some green or white teas (e.g. Matcha, Gyokuro which need 140°F/60°C – 160°F/71°C).
Speaking of tea, every tea lover will have spotted the slightly arbitrary allocation of a temperature to green and white tea.
It makes little sense to heat water to 185°F/°85C for a delicate white tea.
I highly recommend using only the first setting (175°F/79°C) for both types of tea.
If you want to know more about the correct brewing temperatures, check out our dedicated tea blog.
For Canadian kettle fans, it might be useful to know that the temperature control panel is only in Fahrenheit, but it shouldn't be a big issue.
Other Useful Features and Benefits
In case you need to top up, the Breville kettle keeps the water at the desired temperature for 20 minutes. You can activate the keep-warm function before, during, or after completing the heating process ("Hold Temp" button).
Should you accidentally turn on the kettle without water – don't worry – it will turn itself off (boil dry protection) to prevent damage.
You can easily reach into the kettle for cleaning purposes.
It has a removable filter which should be cleaned frequently (learn some useful tips about the right kettle hygiene here.)
The warranty is for one year. For an extra charge, you can extend it to 2 or 3 years.
Feature Overview
A. Soft Opening Lid with Viewing Window.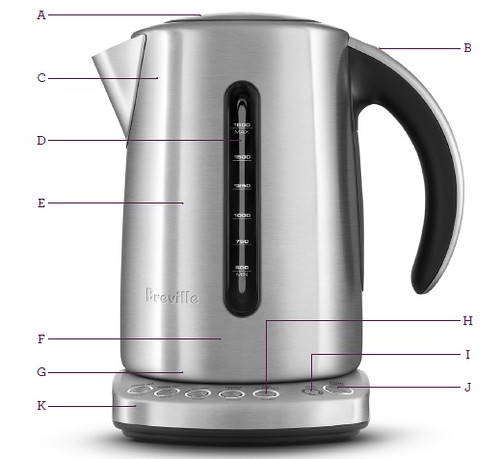 B. Lid Release Button.  
C. Removable Filter.
D. Water Window on both sides.
E. 7.5 Cup/1.8 liter capacity.
F. Rapid Boil 1500 Watt Concealed Element.
G. Auto Shut-Off & Boil Dry Protection.
H. 5 Temperature Settings.
I. Keep-Warm Button.
J. START/CANCEL Button.
K. Multi-Directional Base with Cord Storage.
Price
Most online stores list the Breville kettle with the same price. It's still worth checking them out for possible changes or sales offers.
The kettle is suitable for a $$$ (bigger) budget.
Breville produces also more affordable and more expansive kettles and tea makers – check out our overview at the end of the review.
The Good, the Bad, and the Conclusion
Pros
Sturdy and robust.
Functional design.
Water level windows on both sides + one in the lid.
Easy and convenient temperature settings.
Safe and soft lid opening mechanism.
Cons
The temperature settings might not be low enough for tea lovers.
More suitable for bigger budgets.
Suggestions for green and white tea brewing temperatures are a bit off.
Conclusion
Breville produced a very convenient and easy to handle kettle for a family of tea and coffee enthusiasts.
If that's you, go for it.
Should you like to experiment with various water temperatures and tea types, the conveniently pre-set range might not suit you.
This is especially true if you are a fan of white and green teas and need lower temperatures than 175/79°C.
When you visit the Breville website, you will find only a minimal amount of information about this kettle.
Weirdly, Breville has a complete product page in their support section (here is the link, opens in new tab/window).
It is full of useful specifications and information, including handling and cleaning instruction, warranty issues, brewing the different types of tea and much more.
Unfortunately, this excellent example of a helpful product page is hidden in the support area where nobody would look for it.
Go figure.
The Kettle Whistler
Overview of Breville Kettles
The Soft Top
BKE700BSSUSC
The Crystal Clear
BKE595XL
Smart KettleLuxe
BKE845BSS1BUS1
Smart Tea Infuser
BTM500CLR1BUS1
One-Touch Tea Maker
BTM800XL
$79.95
No temperature control
(click on price to get more info)
$99.95
No temperature control
(click on price to get more info)
$199.95
with temperature control
(click on price to get more info)
$149.95
with temperature control
(click on price to get more info)
$279.95
with temperature
(click on price to get more info) control
Please also check out Affiliate Disclosure here.