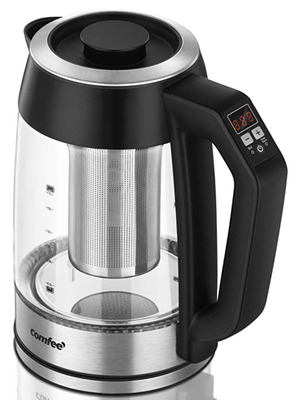 You have to admire the creators of this brand to come up with a name like Comfee. It probably works better with duvets or slippers, but it also gives you the right feeling about a temperature controlled kettle.
The difference to our previously reviewed devices is that this one comes with a tea brewing strainer within the kettle.
It enables the owner to boil the living daylights out of any decent tea leaves or to use it properly and make excellent tea.
There is something attractive and soothing about glass and water, and the sleek Comfee is no different (see also review of Brevo or the Oxo glass kettle).
The angular handle makes it look a bit old-fashioned but provides a good grip.
It also contains the controls to set the various temperatures and functions.