Sunpentown Variable Temperature Kettle (SK-1800R)
Introduction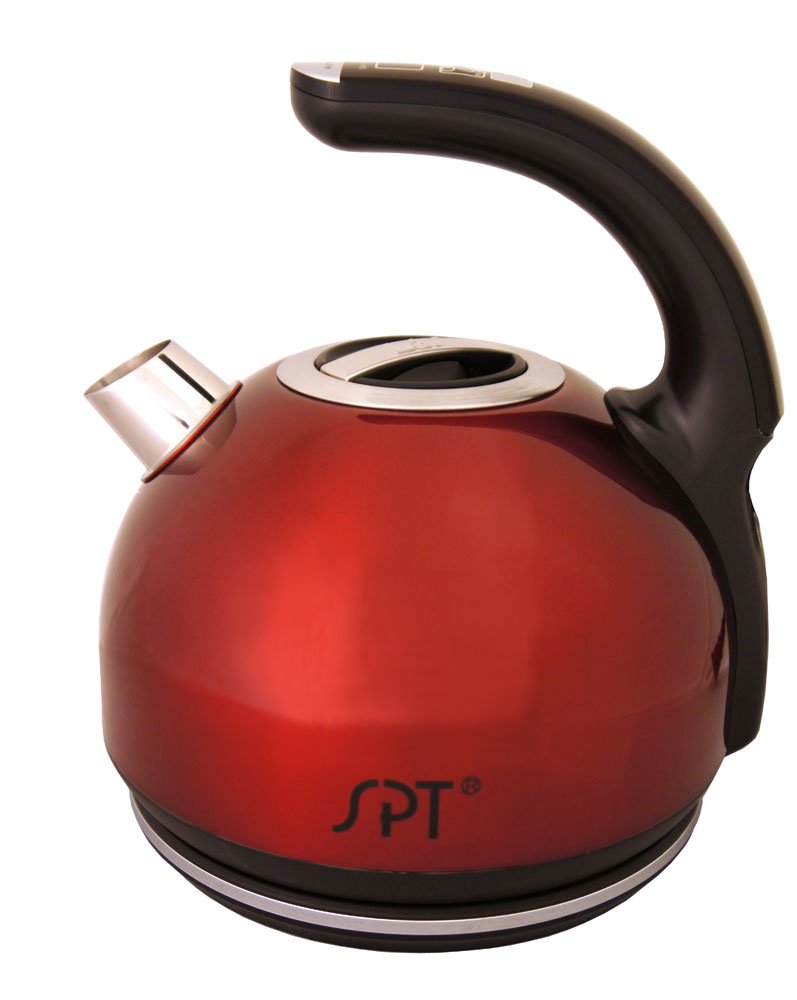 You might ask yourself where the slightly weird name comes from.
Sunpentown is a Taiwanese company called Shàngpéngtáng and started in 1985 with electric rice cookers. 
When they opened their US headquarter in California (1993), they probably wanted a similar sounding company name in English and came up with Sun-pen-town. 
Not very creative or original, but it's memorable and, therefore, mission accomplished.
The SK-1800R comes as a dark red, cool-looking retro design with the temperature control integrated into the handle.
With a big 1.8l water capacity, this good old-fashioned kettle is ideal for big households and offices.
There is something very reassuring about a whistling tea kettle.
It reminds one of the "good old times", perhaps the safety and love in your grandparent's house. Then, life was simple, and you could make everything better with a good cup of tea.
With this particular sound of a tea kettle, you have the cozy feeling that a good cup of tea, coffee or hot soup is coming your way.
Unfortunately, this kettle doesn't sing – but there are solutions – see for more info below.
To get you in the right mood, here is the comforting and slightly piercing sound of a tea kettle.
Crank up the volume and feel the nostalgia wash over you.
How it Works
Boiling Time
Even with 1300 Watt, it takes 7-8 minutes to bring the 1.8l water to a boil.
You might have expected to hear some whistling, but it just beeps 5 times when the water reaches the required temperature.
Pity – many probably prefer the high-pitched singing sound of the steam escaping through the whistle on top of the spout.
But, not all is lost.
You can buy or create your own spout whistle.
Just enter "whistle for tea kettle spout" into your favorite search engine, and you will find ideas and ways to make your Sunpentown sing.
Check out the videos of singing kettles at the end of this review, including a two-tone harmonica.
Temperature Settings
The variable temperature control provides a good range of 4 pre-set choices that are sufficient for most variable kettle requirements:
104°F / 40°C
140°F / 60°C
158°F / 70°C
185°F / 85°C
+ 212°F / 100°C boil button
A helpful visual clue and mildly entertaining feature is the change of colors for the various water temperatures.
Blue means cold (up to 104°F / 40°C),
green (up to 140°F / 60°C),
purple (up to 158°F / 70°C) and then
red when the water approaches boiling point.
To boil the water, you press the "On/Off" and then the "Boiling" button.
To select a pre-set temperature, press the "Warm" button until you see the desired temperature displayed.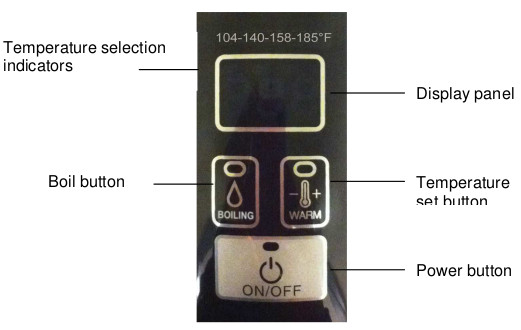 Other useful Features & Benefits
The kettle comes with a keep-warm function. It will maintain the selected water temperature even when you lift it off its base (you need to return it to the base within 30 seconds, otherwise, it turns itself off).
You can cancel the keep-warm function at any time by pressing the "On/Off" button.
Good to know that your future Sunpentown kettle will display an error message (E0) when it detects no water. You might hear a few clicks, which means the kettle checks the water level and turns itself off if none is present (dry boil protection).
With 8.5 pounds, the full kettle is a heavier than an average newborn baby boy.
You will get the standard one-year warranty with your Sunpentown SK-1800R.
Price
Click the button to check the price and availability.
The kettle is suitable for a $ (low) budget.
Sunpentown offers the same kettle for the same price in stainless steel look. You can check it out here.
The Good, the Bad and the Conclusion
Pros
Good range of pre-set temperatures.
Big capacity for families or offices.
For fans of the traditional stovetop kettle design.
One of the more affordable variable temperature kettles.
Cons
It doesn't have a spout whistle for the typical whistling sound.
You cannot program a temperature outside the pre-set ones.
Can be a bit on the heavy side when fully filled.
Some users complained of artificial smell in the beginning.
Conclusion
If you can live with the funny company name, you will get a proper temperature-controlled kettle for little money.
Even better if you want the old retro design of a stovetop kettle in your modern kitchen.
It's a pity that the Sunpentown doesn't make that comforting whistling noise of boiling steam.
To substitute, you could set the timer on your smartphone to the singing sound of a tea kettle.
All in all, if you are on a lower budget for a variable kettle for a bigger household, the Sunpentown SK-1800R is an excellent buy.
The Kettle Whistler
Check out these weird and wonderful videos that show you what you can do with a spout whistle.
The normal, high-pitched kettle sound.
Two-tone harmonica sound
Annoyed kettle (and man)