Brevo Double Walled Glass Kettle
Introduction
Besides the traditional materials to produce a kettle like metal or plastic, there are others like ceramic (W&E kettle, click here for review) and – glass.
It is quite surprising that glass kettles only appeared a few years back.
Water attracts attention. People pay good money to watch the ocean, a bend in a river or a beautiful lake. Why not a boiling kettle?
There is something soothing to watch the strings of small bubbles appear, getting bigger and bigger until the water comes to a rolling boil. Maybe it is just me…
Technically the outside of the double wall is plastic while the inside is a glass-plastic blend. This construction allows a cool exterior and a hot inside layer.
The temperature setting is worth having a closer look.
Most kettles have preset temperatures to choose from. Not so the Brevo kettle.
You can select any temperature between 120°F/49°C and 212°F/100°C in 1°F increments.
Excellent for tea lovers and temperature fanatics.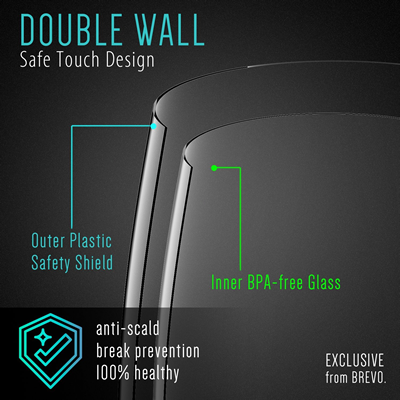 How does it work?
If you fill the kettle to its 1.7l capacity, it would take about 6 minutes to bring the water to boil.
There is a tame beep, and the light turns off.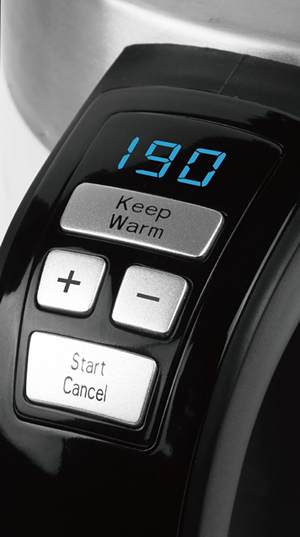 To set the desired temperature, press the + or – button. Keep pushing the buttons, and the temperature will change in 10°F instead of 1°F increments to speed up the process.
The kettle does not remember previous settings and will always start with the default 212°F/100°C.
A cool feature is the real-time display of the changing temperature while you heat the water.
There is also a Keep-Warm button you can press to preserve the current temperature.
The Brevo kettle is good to handle but slightly on the heavy side (4lbs/1.8kg, filled 7.7lbs/3.5kg).
Like many other kettles, the lid opens by pressing a button on the top. There have been reports complaining about erratic or failing lids.
More features are listed here.
Price ($$)
Amazon:

Suitable for a $$ budget.
The Good, the Bad, and the Conclusion
Pro:
wide range of temperature settings
1°F adjustable precision
real-time display of temperature
BPA free
lets you watch the water boiling (this is, of course, a 'con' for cats and vampires)
Cons:
some buyers reported issues with the opening mechanism of the lid
can be a bit heavy
Conclusion
Of all the reviewed kettles the Brevo has the widest range and the most precise temperature adjustment. This makes it ideal for tea/coffee gourmets.
The glass design is down to personal preference but a nice feature.
You could invite neighbors and friends for a cup of good tea and some water-in-kettle-boiling-watching.
Given the features, the price for the Brevo kettle is fair and justified.
The Kettle Whistler
To go to the manufacturer's website: unfortunately, they don't have one!?
Please also check out Affiliate Disclosure here.