Car Travel Mug with Temperature Control
The idea of a heated travel mug for the car is obvious.
You are on the move, and you need to heat something or keep it warm.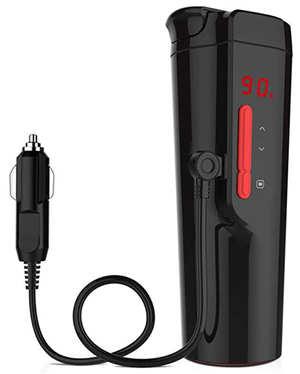 It could be coffee, tea, hot chocolate, (baby) milk, soup, instant noodles or anything else you want to adjust to the right temperature.
It even cooks an egg – provided you want to wait at least 30 minutes.
Eastmount Electric is a heated travel mug with temperature control.
It plugs into the 12V car charger and, with the right adapter, can be used at home or work as well.
The smart travel mug is a sleek and stylish looking device and has a variable temperature setting.
It is not meant to be a kettle, but it can be (almost) used like one.
The mug heats up to 194°F/90°C, which means you could brew yourself a coffee or tea (black might turn out a bit weak, but the temperature is suitable for green, white, Pu Erh or Oolong teas).
A cool feature is the color change of the temperature display. It is red when the mug is heating and turns blue when the set temperature has been reached.
For security reasons, you should do the heating while you are stationary and not moving. You don't want hot liquid floating in your car when you need to brake hard or have to avoid an obstacle.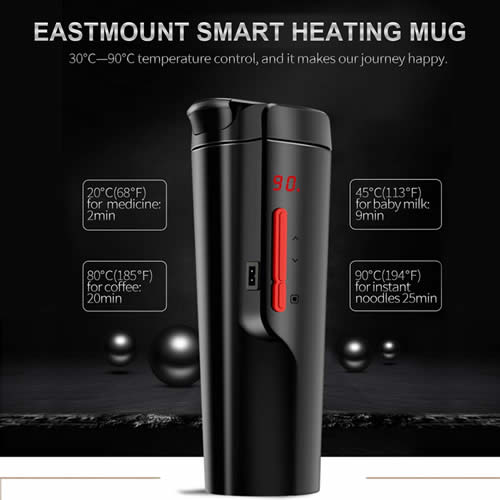 Features
Name:  Eastmount Electric heated Travel Mug
Temperature range: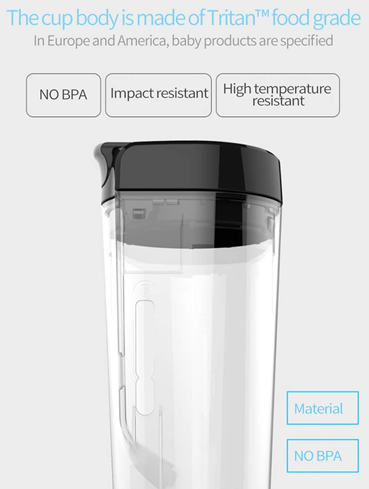 50°F /10°C –  194°F/90°C
With real-time temperature LCD
Capacity: 0.4 liter / 34oz
Keep warm function
Automatic Power Off Safety Feature
Stainless steel for the inner container with plastic casing.
Plug for the car charger is included.
You can also get an adapter for a power socket in most hardware shops.
It is a simple plug-in-job and often includes a USB charger for phones as well.
Fits in car cup holder (9 in / 23cm high).
How does it work?
Due to the low voltage, it will take the mug about 25 minutes to heat water to 194°F/90°C (for more information, see the image above).
That is quite slow but keep in mind that this kind of mug is primarily there to keep something warm or to heat it just to a pleasant drinking temperature (122°F/50°C – 176°F/80°C).
There is a simple up and down button to set the desired temperature.
When the mug is heating, the LCD will be red. As soon as the temperature is reached, it will turn blue and maintain the temperature.
A neat and helpful feature.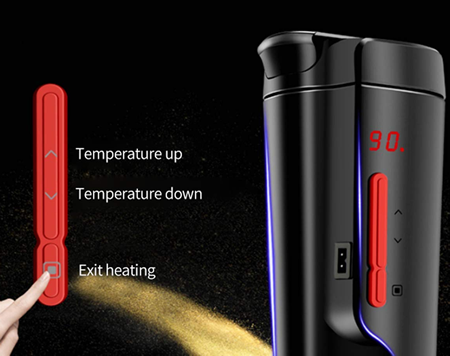 The travel mug has an automatic shut off we already know from the bigger kettles.
For example, if there were no liquid in the mug, it would turn itself off and even display an error code that tells you what the problem might be.
It is a long way from being smart (as the manufacturer claims) but better than a fist in the teeth.
To keep your mug as clean as possible, the inner container can be removed and washed separately. Although plastic, it is BPA free (what is Bisphenol A? See here for more info) and safe to use for children.
The most important detail is the fact that it fits into your car cup holder.
It fits perfectly, looks good and works well – what more can you ask for?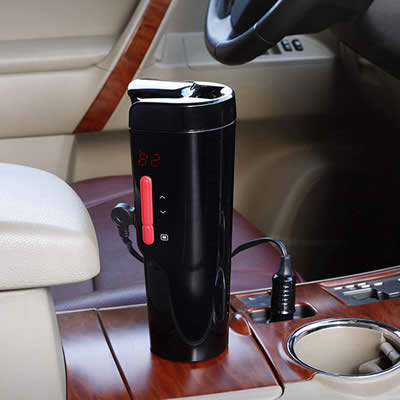 Price
Amazon: a newer model available for $55.99 (check price and availability here)
Suitable for $$ medium budget.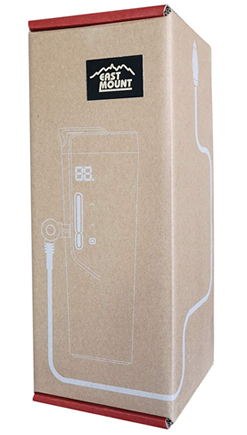 Conclusion
You have to admit – this travel mug looks stylish and modern, doesn't it?
It also works well and provides you with hot coffee, tea or whatever you need while travelling.
These features all come with a price. There are cheaper mugs available that do the same thing but not as stylish and playful as the Eastmount product.
If your budget allows it, go for it!
The Kettle Whistler