Let's Get Comfee (review of kettle with tea infuser)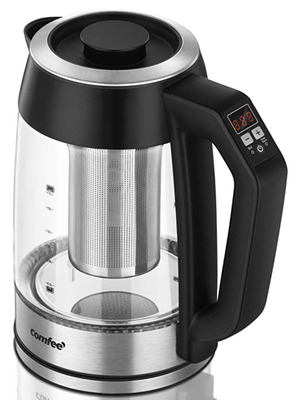 You have to admire the creators of this brand to come up with a name like Comfee. It probably works better with duvets or slippers, but it also gives you the right feeling about a temperature controlled kettle.
The difference to our previously reviewed devices is that this one comes with a tea brewing strainer within the kettle.
It enables the owner to boil the living daylights out of any decent tea leaves or to use it properly and make excellent tea.
There is something attractive and soothing about glass and water, and the sleek Comfee is no different (see also review of Brevo or the Oxo glass kettle).
The angular handle makes it look a bit old-fashioned but provides a good grip.
It also contains the controls to set the various temperatures and functions.
Features
Name: Comfee Temperature Control Glass Electric Tea Kettle with Tea Infuser (MK-17G01B-E5001)
Temperature range: from 50°F /10°C – 212°F/100°C
Capacity: 1.7l / 57.5oz
Power: 1500W
Keep warm: Yes
Automatic Power Off Safety Feature
Boil dry protection
Borosilicate glass with stainless steel
BPA free
Integrated stainless steel tea infuser
Weight: 3.45lbs/1.56kg (empty), 7.19lbs/3.26kg (filled)
How does it work?
The kettle has to be filled with a minimum of 500ml/17 oz water in order to use the infuser. Otherwise, the tea leaves will not reach the water level and just hang in midair.
The best way to make tea is to bring the water to the desired temperature and then lower the filled infuser into the hot water (for more about brewing tea see our blog post here).
Let the tea infuse for the preferred time (usually 2-4 minutes) and remove the strainer.
A word of advice: don't overfill the infuser. The tea leaves will unfold and expand and need some space to develop their best flavor.
To set the right temperature use the controls in the handle. You can easily set the temperature in 10°F increments which are sufficient for all types of tea.
You can, of course, use the Confee as a regular variable temperature kettle. The infuser is removable and can be cleaned separately.
Speaking of cleaning – tea leaves tend to stain the container they are brewed in, especially metal parts
This link is a video (opens in another window) with a slightly timid lady who explains the kettle just before she is about to start her gym class.
Price
There is no price on Amazon at the moment but you can check availability and price here.
Suitable for $$ medium budget.
The Good the Bad and the Conclusion
Pros:
infuser for teamaking included
wide and easily adjustable temperature range
infuser easily removed and cleaned
good to look at and easy to handle
big, family sized capacity
Cons:
tea might leave stains – more cleaning required (but you would need to clean an extra pot as well)
infuser doesn't reach the bottom of the kettle, not suitable for just 1 cup/mug
Conclusion
If you are looking for a kettle with an infuser to produce good tea, the Comfee is a good choice.
It has the required functionality for a fair price.
Where to get
To go to the manufacturer's website: could not find one!