Review of a Travel Kettle with Temperature Control
A travel kettle should be small, compact but still do the required job of heating water efficiently.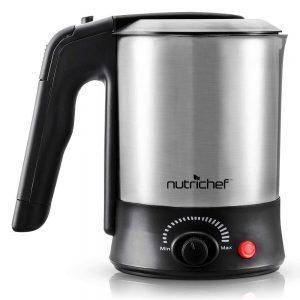 Even better when the kettle allows you to cook noodles, soups, and eggs in it as well.
The ideal candidate also comes with variable temperature settings and is very affordable.
Meet the NutriChef kettle – which combines all of the above features.
The temperature is set with a dial on the front of the kettle. You cannot select the exact temperature, it just says "Min" on one end and "Max" on the other.
The added value to this kettle is that you can also cook other things in it like ready-to-go foods (noodles, soups, pasta) and your morning egg (more here on how to cook an egg in a kettle).
With 0.8l capacity, the NutriChef is already one of the bigger electric travel companions. It weighs just under 1 kg (2lbs) and is slightly bulky. You can stuff socks, underwear, or food into it to utilize the space for traveling.
If you are looking for an even smaller kettle, here is a recommendation (opens a new window):
Bonavita 0.5l, mini kettle, no temperature control
Features
Name:  NutriChef (PKWK38)
Temperature range:  from minimum 104°F /40°C – maximum 212°F/100°C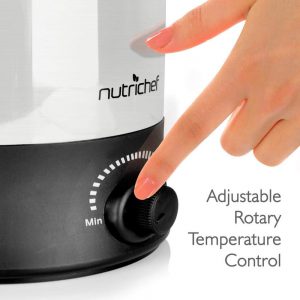 Capacity: 0.8l
Power:  1000W
Keep warm:  has a Reset button to re-heat
Automatic Power Off Safety Feature
Polished stainless steel with a plastic lid – almost BPA free.
Weight:  2lbs/0.9kg (empty), 3.75lbs/1.7kg (filled)
Small compartment for mini spoon and fork integrated into the handle (fork and spoon not included, unfortunately).
How does it work?
The small capacity and relatively high power result in a very fast boiling kettle (2-3 minutes).
When you heat soup or noodles, you can set the temperature knob just below boiling.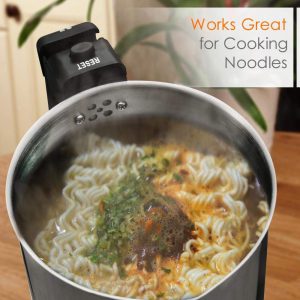 There is no automatic keep-warm function but a reset button instead. By pressing this button, the kettle will bring the content to the set temperature again. It is like a manual keep-warm function.
In theory, the middle position of the temperature dial should be 158°F/70°C (exactly between 104°F/40°C and 212°F/100°C) but, this can vary from one product to the other.
This is just the manufactures way to say that they included the feature without spending too much money on it.
The power cord is detachable but quite short (only 2.5ft/0.76m). The cooking needs to be done very close to the socket, or you have to bring an extension as well.
Since the kettle is made from stainless steel, it will get hot. Always use the handle.
Price
Amazon: unavailable at the moment – check availability and price here
Suitable for $ low budget.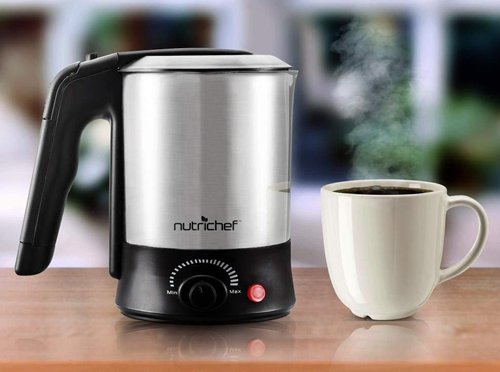 Conclusion
As travel kettles go, the NutriChef slips just into this category. The slightly bigger size has the advantage that it can be used as a regular countertop kettle between travels as well.
We selected it because of the variable temperature feature. Although a bit vague it is better than nothing.
The additional cooking options make for an excellent travel companion but can be useful at home and in the workplace as well.
The price is very attractive, at least on Amazon. The manufacturer recommends a price tag of $59.99 which is more than double.
I would not expect decades of use from the NutriChef but at the current price, it seems like a good deal.
The Kettle Whistler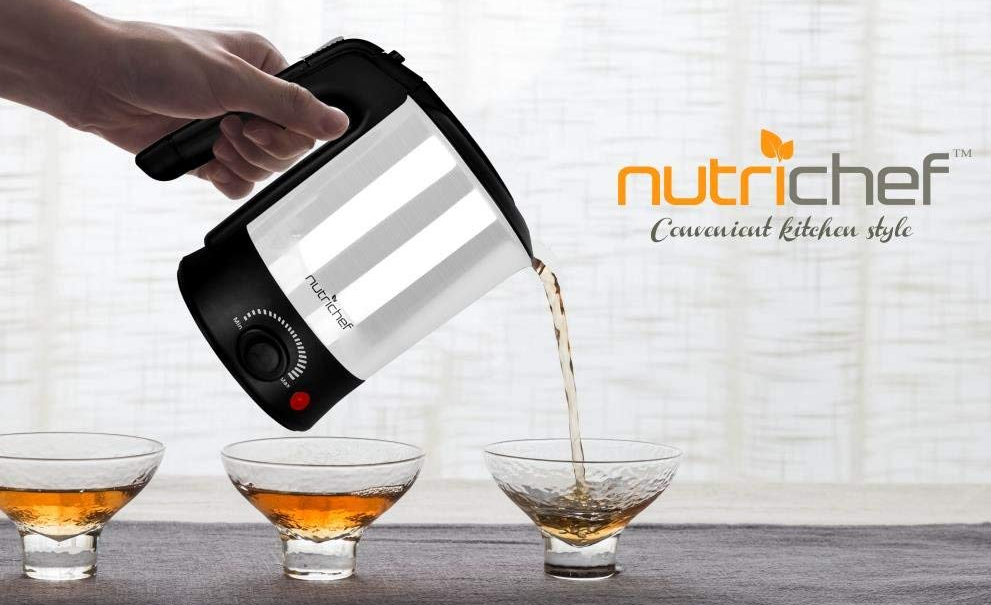 Please also check out Affiliate Disclosure here.